World Premiere Listing GHT 50% Discount Token Surprise
---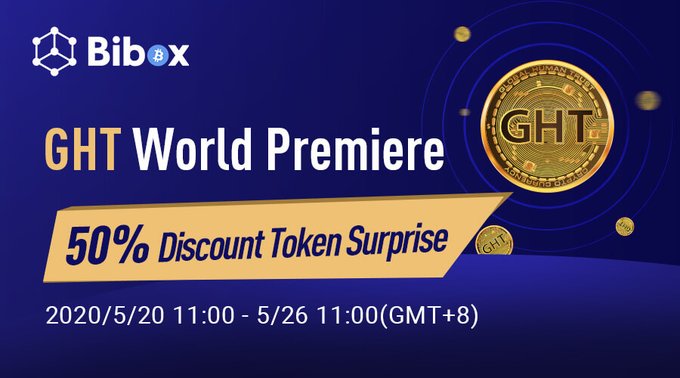 To celebrate world premiere listing of GHT, Bibox is now launching a discount offer, 50% Discount Token Surprise
Rules:
During the event, users that buy or trade GHT can purchase 3000 GHT with a50% off discount.
Users that buy 10 GHT or trade 100 GHT can contact the customer services to subscribe discounted GHT. Bibox Ambassadors may get an additional 10% of the subscribed discounted GHT.
Actual individual subscription limit = individual subscribed limit / total subscription limit * 3000
Event Time:
May 20, 2020 11:00 - May 26, 2020 11:00 (GMT+8)
Please be noted:
Participants will have to contact our customer service (@bibox_cs) to register for the event, and the reward will be according to the actual register.
The final discounted price will be the weighted price during the GHT event.
At the end of the event, we will deduct the amount of USDT and release GHT according to the actual usersubscription. Therefore, the users must preserve enough amount of USDT.
The rewards will be sent to "Funds – My Wallet – My Bill" before May 28, 2020 00:00 (GMT+8)
If the net deposit volume is less than 10 GHT or the trade volume is less than 100 GHT, then it will not be recognized as valid. The giveaways will be rounded up for the Bibox ambassadors.
If the actual subscribed GHT is less than 5 GHT, than it will not be counted.
Cheating is prohibited to ensure the fairness of the event. All rights associated with the violator will be suspended when a user is caught cheating. If the case is deemed severe, the accounts associated with the violation will be permanently suspended.
Risk warning: Cryptocurrency investments are highly risky. Please make investments wisely according to your own risk tolerance.
Thank you for supporting Bibox.
Source: https://bibox.zendesk.com/hc/en-us/articles/900000981223-World-Premiere-Listing-GHT-50-Discount-Token-Surprise